Welcome to The Mediation Group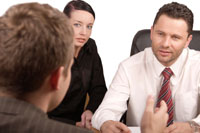 I have spent many years as a litigating divorce attorney in private practice in Northern New Jersey. After far too many years of witnessing the economic and emotional devastation of many families resulting from traditional adversarial divorce process, I chose to convert my practice solely to divorce mediation.
I am devoted to the practice of mediation and offer an alternative approach to divorce. I offer my extensive legal and mediation experience to guide couples toward a fair and sensible result.
- Sanford Kahan